I've decided to do a quick review on my favourite facial moisturizers. It's very important to use a moisturizer that'll not only protect the skin, but keep it healthy by locking in moisture. During the winter months your skin is exposed to external aggressors; harsh winds outside and drying heat inside. The skin can quickly become dry, irritated and flaky. (Ew, right?) If you're looking to try a new moisturizer, hope this review helps! Also, feel free to ask any additional questions/ request reviews!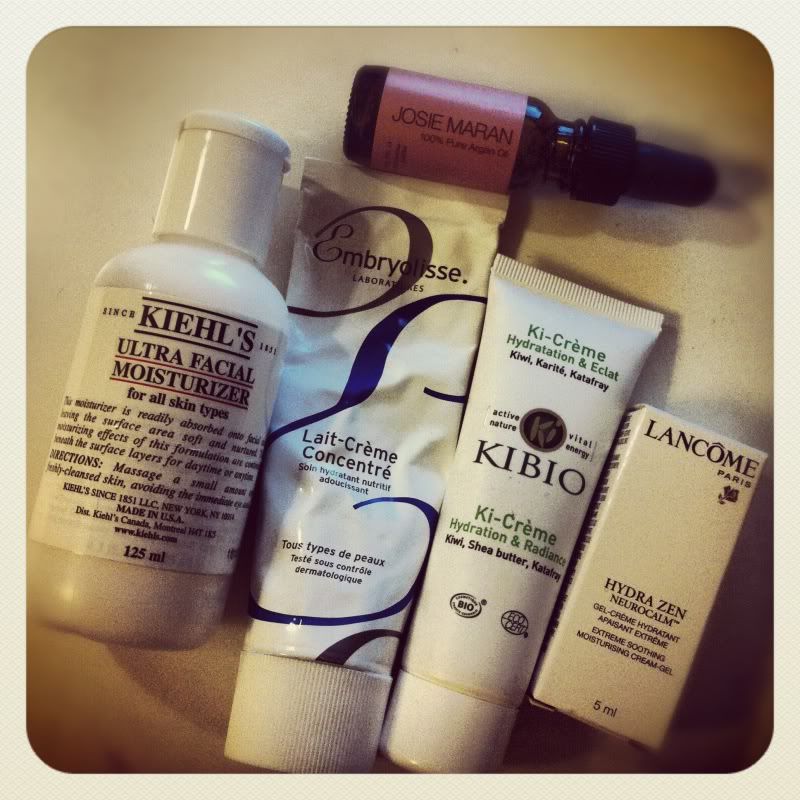 KIEHL'S ULTRA FACIAL MOISTURIZER
This is probably the moisturizer I use the most at the moment. I really like the texture, it's not too heavy, I find that it gives just enough moisture to my normal/combination skin without a greasy feel . Kiehl's uses the ingredient squalane, which is derived from olives and it is a natural moisturizer. (it's actually the second ingredient after water in this lotion). It's also a really nice base for foundation; I don't usually use a primer if I put this lotion on, my foundation goes on so smoooooth! Available at all Kiehl's locations, it's about $35 for 125ml.

EMBRYOLISSE LAIT-CRÈME CONCENTRE
This brand is not that well known or popular on the market yet, but more and more people are loving it, pixiwoo anyone? This is a rich moisturizer, so if you have oily skin this might not be the best option. Since it has a rich texture, it takes a little bit longer to absorb into the skin. It's skin friendly ingredients include natural shea butter, beeswax, aloe vera and soy proteins. I'm definitely going to use this a lot when winter strikes. Make up artists use this as a primer and as a makeup remover. It's paraben free and can also reduce irritation after shaving! In Toronto it's available at Do My Hair (583 Mt. Pleasant Rd), 75ml for about $30.

A lot of people are now looking for natural and organic options not only in their diet but skin care as well. Kibio is a great brand if you're looking for natural and organic skin care. The brand is owned by the Clarins group and it's based in France. Kibio products are both Ecocert and Cosmebio certified. Every Kibio product packgaing shows how much of the ingredients are organic and natural – for example the Ki Crème is 74.1% organic and 98.9% natural. This moisturizer is meant to provide intense hydration for the skin with radiance. The scent is really nice, mix of kiwi and vanilla. The texture is silky, and I would say on the heavier side. For the daytime I find it too much for my skin, but I love using it as a night time moisturizer. Available at Shoppers Drug Mart/Murale, 50ml for $37.

JOSIE MARAN 100% PURE ARGAN OIL
This lightweight moisturizing oil can be used so many ways. I find that it makes a great night moisturizer for any skin type. It's actually recommended for oily skin, it will balance the skin's oil production and help heal acne scars. Argan Oil comes from Morocco and it is very rich in Vitamine E and fatty acids. It can be used to treat split ends and give hair shine, smooth flyaways, and soften cuticles. If you have very dry skin you can layer this as a serum under your regular moisturizer to give your skin extra nourishment. It's available at Sephora, about $20 for 15ml (which will last you a long time!)

LANCOME HYDRA ZEN EXTREME SOOTHING MOISTURIZING CREAM-GEL
I love the texture of this moisturizer! Its very light weight more of a gel than a cream. This moisturizer is meant for stressed skin (hello external agressors!!!) – it comforts, hydrates and soothes irritated skin. It's a very good moisturizer for sensitive skin especially. Botanical Extracts such as Rose de France and Moringa help reduce emotional and environmental stress on the skin. It's an exam week must have! (I kid you not!) You'll look like you got a fantastic 8 hour sleep,(but really you left studying to the last minute so you pulled an all nighter..) Great for oilier skin types as well, the gel crème absotbes quickly and keeps the skin hydrated up to 12 hrs. Available at Shoppers Drug Mart/Deparment store Lancome counters $68 for 50ml.
x barbara